Yoga Studios in Cincinnati
Studio owner Missy Tyszkiewicz opened Move Your Hyde Power Yoga in 2009 to share her love of power yoga with Cincinnati.
Our yoga studio is located on the square in Hyde Park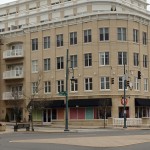 in the Michigan Terrace building (shown here on the right) at 3500 Michigan Avenue (corner of Michigan and Erie). The entrance to the yoga studio is on the Michigan side of the building, to the left of the condo's main entrance, behind the lululemon athletica store.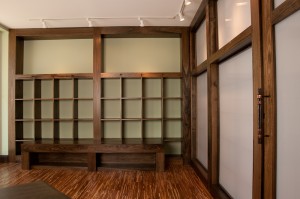 At the entrance to the yoga studio are built-in cubbies for your shoes and other belongings. You can also store your larger belongings, such as duffel bags, in a walk-in closet in the practice area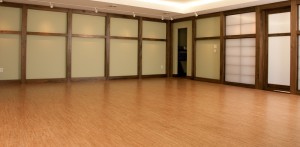 The practice area has a zen quality to it and a natural cork floor. The cork gives great support while also providing a little give. You'll notice a difference on your joints, especially during arm balances.
The yoga studio is open 15 minutes before and after each scheduled class. The doors are locked during class. If you would like more information about our studio or our power yoga classes, please stop by before or after a scheduled class. Also, feel free to contact us by phone, 513-321-1999 or email at [email protected].

Where to Park? We suggest the following parking options during class – street side at a 120 minute meter or in the public parking lot behind Tellers.
The 120 minute parking meters are located east of Michigan on Erie. They are identified by a red 120 label. The parking meters closer to Hyde Park Square are typically 60 minute meters, likewise identified by a red 60.
The entrance to the public parking lot behind Tellers is off of Edwards Road at 2700 Gregson Place. This is a 24 hour lot. You must purchase your time in advance from the automated machine and leave your receipt visible in the driver side front window.
WARNING: Don't park in the doctor's parking lot next to the building. Unfortunately, you will be towed.