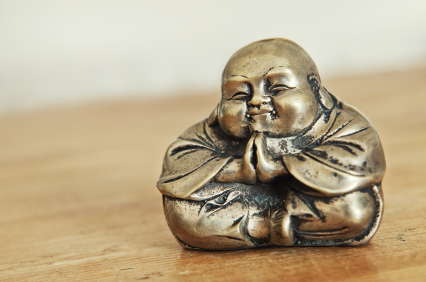 For the health and safety of our teachers and students during this pandemic, we have  implemented the following:
To maintain social distancing, class size has been reduced to 12. Tape on the studio floor indicates where the upper left corner of your yoga mat should be placed to ensure a 6′ social distancing circle from the center of your mat.
To eliminate congestion at the front desk and the handling of cash and credit cards, drop-ins have been eliminated and all studio transactions must be done online before you arrive at the studio. You can purchase classes on our website or through the Zen Planner app available for iPhones or Androids.
To participate in a class,

you must pre-register online

. This can be done through our online calendar or the Zen Planner app available for iPhones or Androids. Registration for each class opens 7 days in advance. You may cancel your online registration up to two hours before the class without penalty.
Please maintain a social distance of 6 feet as you enter and leave the studio. This means you may need to wait outside while the person before you makes their way through our front space to the practice area, and you may also need to wait inside the studio for the front space to clear.
Community yoga mats and towels (including hand towels for cleaning your yoga mats) will no longer be provided. Spray bottles with yoga mat cleaner will still be available to use at your discretion.
Because yoga props are important for yoga safety, we will continue providing community yoga blocks, bolsters, and straps. If you use the community props, do NOT return them to the shelf. We will have a bin where used props can be put in quarantine for sterilization later. Also, if you plan on using a bolster, please bring a full size towel to cover it.
Please wear a mask when entering the studio. You may remove your mask once you are on your mat to practice.
Furnace filters have been upgraded to FPR 10 rated filters, which capture bacteria, microscopic allergens, and particles that can carry viruses.
Use common sense. If you do not feel well, DON'T come to class. If you have been in contact with someone who has symptoms of, or has tested positive for COVID-19 in the last 14 days, please DON'T come to class.
Be considerate of others. If you have allergies, cough, or cold and you are POSITIVE it is NOT COVID-19, DO NOT come to class anyway. Others will feel better and you could be wrong.
If you run into any difficulty registering or paying online, or if you need to make special arrangements to pay with cash or credit card in person, the best way to contact us is through our studio email: yoga@moveyourhyde.com
Finally, please remember that with any group class, there is risk of contracting communicable diseases, including COVID-19. By participating in classes at Move Your Hyde, you are doing so at your own risk and agree to our Waiver & Release of Liability.
USEFUL LINKS