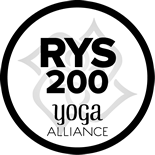 DATE: June 7, 2019 through August 1, 2019
WHO: Aspiring teachers and students wishing to deepen their understanding and practice of yoga
WHAT: Foundational 200-hour Yoga Teacher Training Certification.
This 200-hour yoga Teacher Training, recognized by Yoga Alliance, will encompass:
⦁ Asana Study
⦁ The Methodology of Teaching
⦁ Anatomy and Alignment
⦁ Sequencing Techniques
⦁ Hands on Assisting
⦁ Self Exploration
⦁ Yoga Philosophy
⦁ Meditation and Pranayama
⦁ Practicum – Assisting, teaching and attending classes
WHEN: June 7th -13th, June 17th – 27th, July 15th – 18th, July 22nd – August 1st
HOURS: Monday 5:30 – 8 pm, Tuesday 6 – 9 pm, Wednesday 5:30 – 8:15 pm, Thursday 6 – 9 pm, Friday 6 – 9 pm, Saturday 8 am – 5 pm, Sunday 8 am – 5 pm
MISSION STATEMENT:
Our goal is to empower each student to take their seat as a teacher through connecting to their authentic self and unique voice, and to give them the necessary tools to use their voice to impact others in a positive way.
Please print and complete the application (see link below) and submit it to Move Your Hyde for consideration of acceptance to the 200 hour program. The cost of the program is $2700 which includes a $150 non-refundable deposit/sign-up fee upon acceptance into the program.
Accepted teacher training applicants are also eligible to receive student rates for classes prior to the beginning of the program.
MYH Teacher Training Application Link
Please contact Missy at yoga@moveyourhyde.com with any questions.