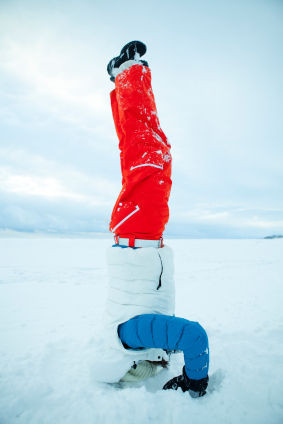 Our Winger Yoga Challenge starts January 1st! For the months of January, February and March, every class you attend could bring you closer to a fabulous reward.  The person who attends the most classes by the end of the challenge will receive 3 months of free unlimited yoga classes. The second place finisher will receive 2 months of free yoga classes and the third place finisher will receive 1 month.
In addition, everyone who participates can earn valuable discounts.  If you attend 20 classes over the 3 month challenge, you will receive a 10% discount on your next purchase of a class package, 30 classes earns a 15% discount, and 40 classes earns you a 20% discount.
To register for the challenge, please enter your name, email address, and nickname below. The nickname will be used to display contest rankings over the winter. Think of a fun and memorable nickname for the challenge.
We will accept registrations for the challenge through February 28th. Updated rankings of the challengers will be displayed periodically through the end of February. We will maintain radio silence for the month of March, keeping individual rankings confidential until final results are published in early April. In case of a tie for 1st, 2nd or 3rd place, the prize pool will be split among the winners.
Good luck yogis, and may the odds be ever in your favor.
April 7, 2013 Update: The Winter Yoga Challenge results are now final. Winners will be notified during the week on how to collect their prizes.
Final Challenge Results as of March 31, 2013: 
| Nickname | Class Tally | Prize |
| --- | --- | --- |
| Lady Yo-Gaga | 71 | 3 Months Unlimted Yoga |
| More owlishness | 65 | 2 Months Unlimited Yoga |
| Wren | 58 | 1 Months Unlimted Yoga |
| Elastigirl | 56 | 20% Discount |
| Mrs. boss | 54 | 20% Discount |
| Yogi Baby | 50 | 20% Discount |
| Twinkle Toes | 46 | 20% Discount |
| Mpiten | 43 | 20% Discount |
| Marge | 43 | 20% Discount |
| Emily | 43 | 20% Discount |
| JillBean | 42 | 20% Discount |
| Sunshine | 42 | 20% Discount |
| Alygator13 | 41 | 20% Discount |
| EHH | 34 | 15% Discount |
| Red | 33 | 15% Discount |
| Dominique | 31 | 15% Discount |
| Aplace | 30 | 15% Discount |
| YogiBear | 29 | 10% Discount |
| Rixta | 29 | 10% Discount |
| Mags | 29 | 10% Discount |
| Kimbo | 28 | 10% Discount |
| Kath | 27 | 10% Discount |
| Yogimama | 26 | 10% Discount |
| Tinkerbell | 25 | 10% Discount |
| Wispatund | 24 | 10% Discount |
| Harlembabe | 23 | 10% Discount |
| Ohmdiva | 22 | 10% Discount |
| MPLee | 21 | 10% Discount |
| Cristina | 20 | 10% Discount |
| Duke48 | 20 | 10% Discount |
| Boss | 19 | |
| Rae Rae | 18 | |
| Tallmegs | 15 | |
| Jessica | 13 | |
| Tkdmandy | 11 | |
| Turkish delight | 11 | |
| Balls | 10 | |
| Beth R | 10 | |
| WeekendZEN | 10 | |
| Dancing queen | 7 | |
| Laurinfunzik | 7 | |
| Asana | 6 | |
| Falcon | 5 | |
| Lindsay V. | 4 | |
| Jojo | 4 | |
| Bouncy | 4 | |
| Warrior 1 | 3 | |
| LobsterMan | 3 | |
| Chameli | 2 | |
| Kadie | 2 | |
| JAG | 2 | |
| Yoganator | 1 | |
| Gidget | 1 | |